"A Musician's Day", our inaugural exhibition, features work by artists: Abby Lloyd, Ana Bial, Janine Iversen, Júlia Brandão, KT Hickman, Marcy Cruthirds, Renee Delosh, Sophia Rauch.
Open by appointment November 22nd 12-3pm, November 28-29th and December 5-6th, from 1-4pm.


A Musician's Day
An artist must regulate his life. Here is my precise schedule. I rise at 7:18; am inspired from 10:30 to 11:47. I lunch at 12:11 and leave the table at 12:14. A healthy horse-back ride on my property from 1:19 to 2:35. Another round of inspiration from 3:12 to 4:07.
From 5:00 to 6:47 various occupations (fencing, reflection, immobility, visits, contemplation, dexterity, swimming, etc.) .
Dinner is served at 7:16 and finished at 7:20. Afterwards from 8:09 to 9:59 symphonic readings out loud.
I go to bed regularly at 10:37. Once a week I wake up with a start at 3:14 a.m. (Tuesdays.)
I eat only white foods: eggs, sugar, shredded bones, the fat of dead animals, rice, turnips, sausages in camphor, pastry, cheese (the white varieties) , cotton salad, and certain kinds of fish (skinned).
I boil my wine and drink it cold mixed with fuchsia juice. I have a good appetite but never talk when eating for fear of strangling.
I breathe carefully (a little bit at a time) and dance very rarely. When walking I hold my sides and look steadily behind me.
Being of serious demeanour, it is unintentional when I laugh. I always apologize very affably.
I sleep with only one eye closed; I sleep very hard. My bed is round with a hole for my head to go through. Every hour a servant takes my temperature and gives me another.
For a long time I have subscribed for a fashion magazine. I wear a white cap, white socks and a white vest.
My doctor has always told me to smoke. He even explains himself: "Smoke my friend. Otherwise someone else will smoke in your place." (Mémoires d'un amnésique.)

- Erik Satie
Abby Lloyd is an artist, curator and performer who lives and works in New York City. Recent solo exhibitions include

"Abby's Room"

at Freddy, NY and "

Why Meow

" at Catbox Contemporary, NY. Other recent exhibitions include "T

he Essential Goods Show

", FIsher Parrish Gallery, NY and "

Untitled (Molly House)

", EXILE, Vienna, Austria. Lloyd has performed as her character "Sassy" in various venues and has appeared on "The Special Without Brett Davis", MNN, NY. Lloyd recently released a free PDF cookbook "Artists + Recipes",

www.artistsandrecipes.com

She also recently curated an online literary arts project "

Behind the Times

" with

Alyssa Davis Gallery

for

Solo__Show

. Lloyd co-runs the project space

"East Hampton Shed & Tow"

with Hadley Vogel. Lloyd has an upcoming solo exhibition this Spring at Alyssa Davis Gallery, NY. Lloyd's personal website is

https://abbylloyd.us



Ana Bial was born in Rio de Janeiro, she lives and works in New York City. Ana received a BFA from the School of Visual Arts in New York. In 2020 she participated in the artists residency Despina, in Rio de Janeiro, concluded with the online pro

je

ct

vitrinevitrine.com

in collaboration with curator Victor Gorgulho

.

Most recently her work was featured in

PSYCHO

, a group exhibition curated by Abby Lloyd and Hadley Vogel at East Hampton Shed and Tow.

Janine Iversen was born in middle America to Italian immigrants who migrated west from New York when her mom was a teen. The truck her grandfather drove with their family's belongings crashed en route, everything burned, and their family dog ran. Thankfully everyone was safe.

Julia Brandão, born and raised in Brazil, works primarily in textile, installation and performance. Her multidisciplinary practice questions the body in relation to displacement and memory. Constructing paintings and sculptural pieces with fabric, foam, and collected materials, Brandão's textile works represent the limits and possibilities of the female body in the spaces it inhabits. In 2018 the artist was awarded a fellowship from the NYFA Immigrant Artist Mentoring Program. Her work has been shown at NARS Foundation (New York), Jane Lombard Gallery (New York), Lazy Susan Gallery (New York), Galeria Sé (São Paulo), Galeria Despina (Rio de Janeiro), among others. She was artist-in-residence at Annex B in New York. The artist is currently living and working in Brooklyn, New York.

KT Hickman was born in Youngstown, OH and currently lives and works in Brooklyn, NY. Most recently KT's work was featured in a solo exhibition, Thirst Asks Nothing More, curated by Leo Fitzpatrick at the Viewing Room, Marlborough Gallery, New York, NY and the group exhibition PSYCHO curated by Abby Lloyd and Hadley Vogel at East Hampton Shed and Tow.

www.kt-hickman.com

/

www.

instagram.com/kt_420



Marcy Cruthirds was born in Tampa, FL in 1986, she lives and works in New York City. She received her BFA from the School of Visual Arts in New York. Recently she participated in a group show titled Friend's Memories Fade, at Paradice Palase and in online curatorial projects Artists & Recipes and Solo Show: Chapter 5 Behind the Times.

Renee Delosh (b. 1987 Huntington, NY) currently lives and works in Brooklyn, NY. In December 2019, she presented a solo exhibition, Ch-Chess, at Lane Meyer Projects in Denver, CO. She received her BFA at the School of Visual Arts, New York and has previously exhibited works at SITUATIONS, New York, NY; Tops Gallery, Memphis, TN; Lane Meyer Projects, Denver, CO; Yes Ma'am Projects, Denver, CO; and Wayfarers, Brooklyn, NY.

Sophia Rauch is a 2D artist focused on abstraction and the artistic myth. She was born in Berkeley CA in 1984, and is based in Brooklyn, New York. She has shown internationally and published her artist book Scans at Home with FLTFL. Rauch received her BFA from the School of Visual Arts in 2008, and her MFA from the School of the Art Institute of Chicago in 2012.


,h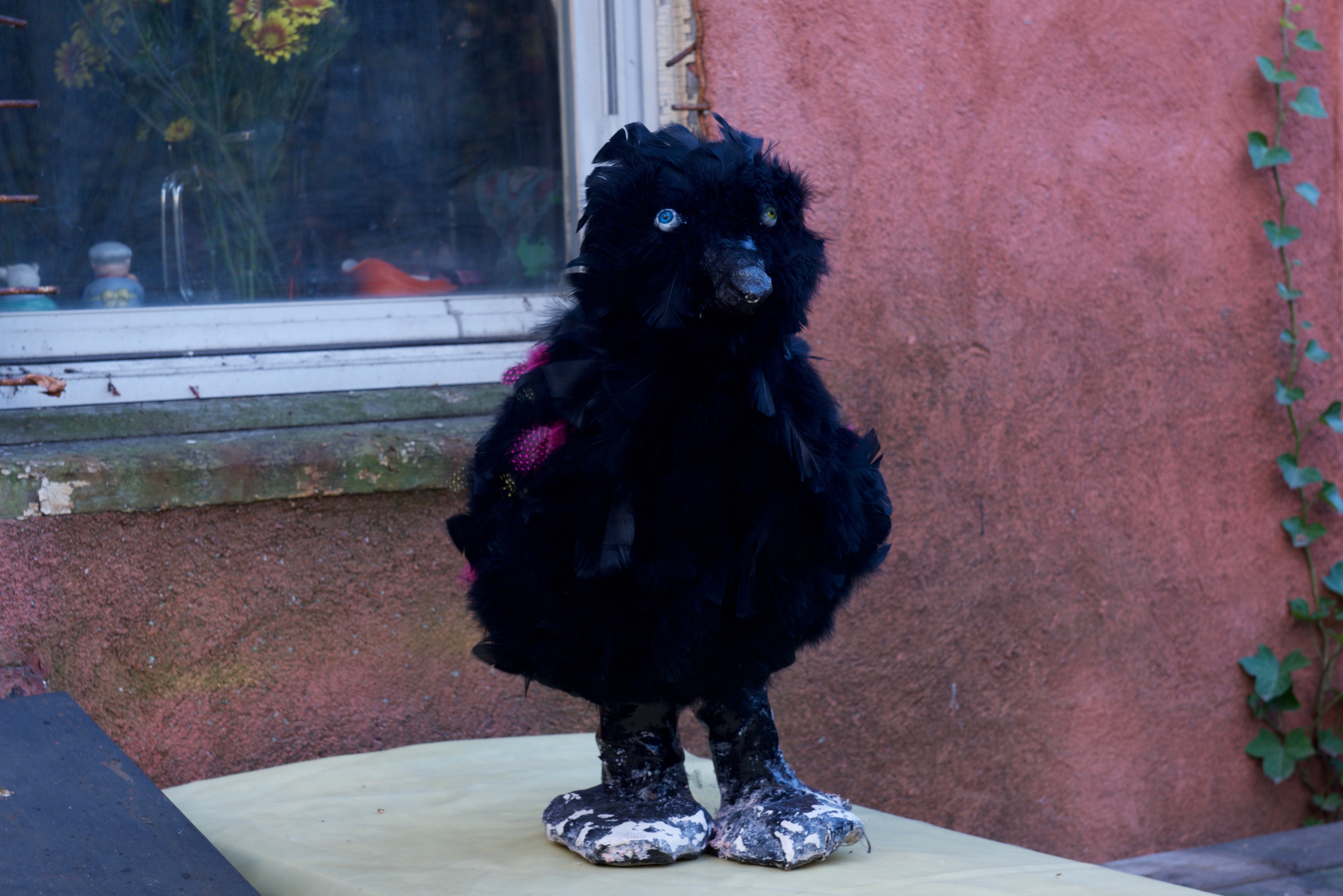 A
Abby Lloyd, Cosmo Kramer Turkey Shoot, 2020
performance photos by Bo Gueddes
2020 NEIGHBORHOOD GALLERY - All Rights Reserved